Bayern Munich are one of the biggest clubs in the world, and the German giants have been hugely successful both domestically and in Europe over the past decade. Two players who have been synonymous with Bayern's success over the past 10 years are Arjen Robben and Franck Ribery, and it seems that both the wingers are leaving this summer.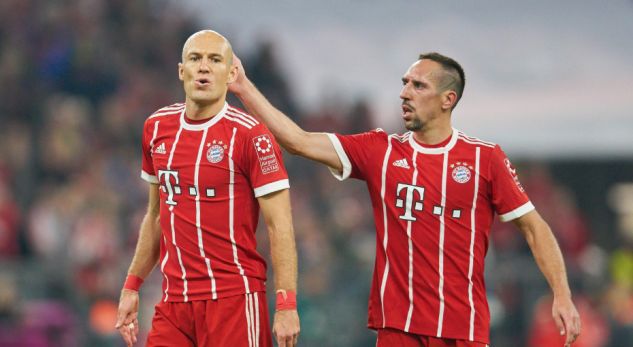 Robben joined Bayern from Spanish and European giants Real Madrid in the summer of 2019 for €25 million, and the Dutch winger was an instant success. The former Chelsea star's dribbling skills, running at defenders and taking accurate shots on goals endeared him to the Allianz Arena faithful.
The 35-year-old former Netherlands international has played an important role in Bayern winning the Champions League in 2013 and the German league title as many as seven times since 2009 – actually, make that eight, as, according to latest Bundesliga betting odds on bet365.com the Bavarian giants are only 1/40 to clinch the championship this season ahead of Borussia Dortmund.
😀💪⚽ pic.twitter.com/HRGYYSkpjh

— Arjen Robben (@ArjenRobben) October 14, 2016
Ribery has been at Bayern slightly longer than Robben – the 36-year-old winger joined the club in 2007 – and the former France international has been just as crucial. Blessed with dribbling skills and possessing the ability to cut inside and operate as a playmaker, the former Marseille star formed a formidable partnership with Robben on the pitch and terrorised opposition defences for years. And now that's coming to an end. Bayern have already announced that Ribery will leave when his current contract at the clubs runs out this summer, while Robben announced his plan to part company with the German clubs back in 2018. This is a new era for Bayern, but will they be able to cope without 'Robbery'?
It could take a while for Bayern to completely move on, but the signs are very positive in terms of Bayern getting over the lingering effects of Robben and Ribery. In Kingsley Coman, the Bundesliga powerhouse have one of the stars of the future who can be just as good, if not better than Robben and Ribert. After struggling to make a huge impact at Paris Saint-Germain and Juventus, the France international, who can operate as a winger or as a forward, has finally found his home at the Allianz Arena. Five goals and three assists in 15 Bundesliga starts underline just howpowerful the 22-year-old can be.
James Rodriguez has not exactly been a massive success at Bayern, and he is still only on loan from Real Madrid, but the 27-year-old Colombia international attacking midfielder has shown in glimpses what he is capable of. The former AS Monaco star, who can also play as a winger, needs to add consistency to his game, but at the age of 27, he is ready to hit his peak. Alphonso Davies has just started his professional club football career for Bayern, but the 18-year-old winger is very highly rated at the club, and the Canada international could be a very important player for Niko Kovac's side next season. The future is bright for Bayern, even without Robben and Ribery at the club.