Liverpool forward Mohamed Salah scored his first treble of the season as he led his team to a big result against Manchester United in the Premier League. Manchester United on TV was a feature as Salah scored three goals in the 5-0 away win for the Reds. The Manchester United defence was not able to cope with the red-hot attacker who has been in very good form since the start of the season.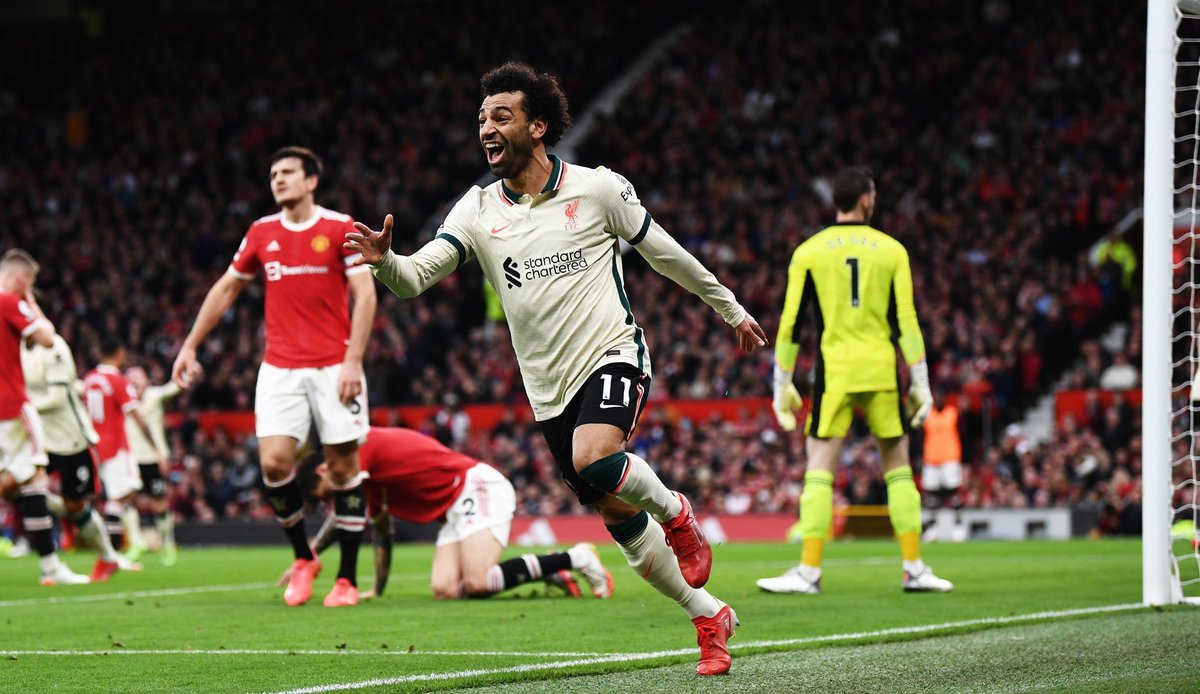 Salah was the provider for the opener scored by Guinean international Naby Keita after five minutes. He scored the opening goal of the game shortly after Portugal international Bruno Fernandes missed a decent opportunity to break the deadlock for the hosts. England right-back Trent Alexander Arnold then provided the assist for the second Liverpool goal scored by Portuguese star Diogo Jota who was surprisingly included on the left side of the Manchester United attack ahead of Senegalese international Sadio Mane.
Manchester United trailed 2-0 inside the first thirteen (13) minutes and their defence collapsed completely when Salah added a brace in the last seven minutes of the first half to make it a dream 4-0 scoreline in favour of Liverpool at the end of the first 45 minutes.
Salah completed his hattrick five minutes into the second half to make Premier League history by becoming the first visiting player to score three goals in the history of the competition at Old Trafford.
Manchester United on TV proved to be a feature when the Red Devils came from a two-goal deficit at the break in the Champions League game with Italian Serie A side Atalanta to score three goals and win the game 3-2 at the same match venue as the Liverpool encounter, but they could not repeat the same featagainst the Reds. Any small hope to mount a comeback was extinguished when Pogba was sent off on the hour mark after a poor challenge on Keita. The Frenchman spent just fifteen (15) minutes after he had come on young English forward Mason Greenwood at the break.
With his three goals, Salah is now the African player with the most Premier League goals (107). He has 15 goals in all competitions, including five goals in the Champions League.
Manchester United on TV would be a feature when the Red Devils try to come back from the Liverpool debacle against North London side Tottenham Hotspur away from home in their next game this weekend.